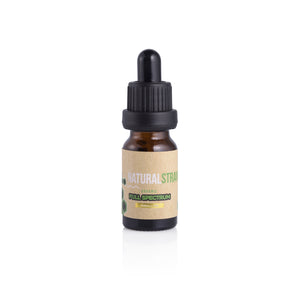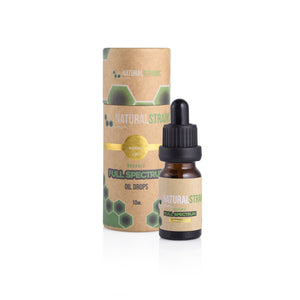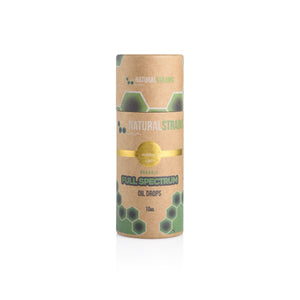 4000mg (40%) Organic CBD Oil
Natural Strains full spectrum extra high strength 4000mg 40% CBD oil is certified organic and comes in a 10ml recyclable glass dropper bottle.
Our superior quality pure CBD oils are made from hemp plants grown in certified organic soil and distilled in a high tech production facility using supercritical CO2 extraction methods. We use organic MCT oil as the carrier oil, so you can be safe in the knowledge you're not consuming any chemicals or other nasties.
PERCENTAGE COMPOSITION OF 40% CBD OIL 
CBD 4000mg
THC <0.2% <1MG per closed container 
At Natural Strains, we've made it our mission to source only the purest, highest quality CBD oil available, while ensuring our operations and packaging are sustainable and environmentally friendly. We want our customers to buy with confidence, that's why everything we do is dedicated to ensuring we offer the best CBD oil in the UK.
Why buy Natural Strains?
✓
Extra high strength 40% CBD oil
✓
Convenient
& recyclable
glass
dropper bottle
✓
Full spectrum
(see benefits below)
✓
Rich in natural cannabinoids,
terpenes
& phytonutrients
✓
Certified organic MCT carrier oil
✓
Zero pesticides, herbicides or additives
✓
100%
natural and
chemical free
✓
Environmentally friendly
operations,
storage & packaging
Is
4000
mg
40
% strength
right for me?
Our extra high strength 40% CBD oil is the strongest on the market. It is completely legal and complies with strict UK legislation. Please note: there is a possibility that crystallization can occur due to its high concentration. This is totally normal and can be remedied by placing the bottle in hot water (around 70 degrees) for several minutes before use until it turns into a syrupy liquid.
INGREDIENTS
Organic Hemp Extract
Organic MCT Oil
DOSAGE
5-10 drops taken daily, 2-3 times a day. Do not exceed the stated dose.

RECOMMENDED USE
Place drops under the tongue and hold for 60 seconds, and then swallow. Drops can also be applied topically (on the skin) and can be added to food and drink.
Knowledgebase - How to use your Hemp flowers 
CBD Green
Matcha Smoothie 
Serves 2
Prep time: 2 minutes
Mixing time: 3 minutes
Dosage: Start with 4-6 drops of CBD oil, add more or less depending on the desired effect.
Ingredi

ents
4-6 drops of CBD oil (2-3 per person)

2 tsp matcha

2 bananas 

2 tbsp honey

2 cups almond milk
How to
make
Pour the almond milk, and honey into a blender 

Add your CBD oil and matcha 

Add the bananas 

Blend together with CBD oil for 3 minutes

Why not add mixed berries into a blender to make a CBD Mixed berry Matcha smoothie?
Browse our KnowledgeBase for more CBD recipes that demonstrate the perfect use of your CBD flowers and oils.
DOS

AGE
Always start with a lower dosage, increasing until the required effect is reached
IMPORTANT NOTES
This product cannot be smoked or vaporised
This product is not intended to diagnose, treat, cure, or prevent any disease
Do not use if you are pregnant.