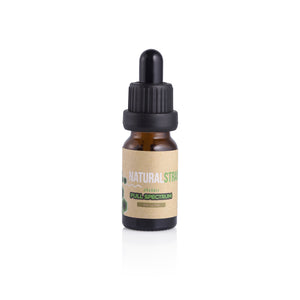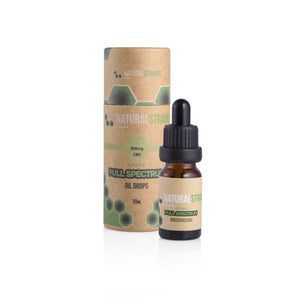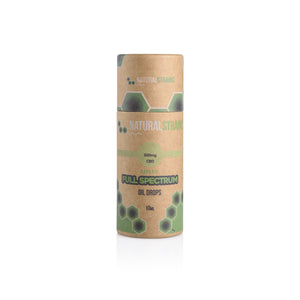 500mg (5%) Organic CBD Oil
Natural Strains full spectrum 500mg 5% CBD oil is certified organic and comes in a 10ml recyclable glass dropper bottle.
Our superior quality pure CBD oils are made from hemp plants grown in certified organic soil and distilled in a high tech production facility using supercritical CO2 extraction methods. We use organic MCT oil as the carrier oil, so you can be safe in the knowledge you're not consuming any chemicals or other nasties.
PERCENTAGE COMPOSITION OF 5% CBD OIL 
CBD 500mg
THC <0.2% <1MG per closed container 
At Natural Strains, we've made it our mission to source only the purest, highest quality CBD oil available, while ensuring our operations and packaging are sustainable and environmentally friendly. We want our customers to buy with confidence, that's why everything we do is dedicated to ensuring we offer the best CBD oil in the UK.

Why buy Natural Strains?
✓
Convenient
& recyclable
glass
dropper bottle
✓
Full spectrum
(see benefits below)
✓
Rich in natural cannabinoids,
terpenes
& phytonutrients
✓
Certified organic MCT carrier oil
✓
Zero pesticides, herbicides or additives
✓
100%
natural and
chemical free
✓
Environmentally friendly
operations,
storage & packaging
Is 500mg 5% strength right for me?
Our superior quality CBD oils come in a range of strengths from low dose 5% to 10%, 20%, 30% and extra high strength 40%. Some customers will know what strength they need, but others may need a bit of guidance. It does depend on what you're looking to take CBD oil for.
This 500mg 5% CBD oil is our entry-level strength and is great for
•
Trying
CBD oil
for the first time with a low dose
•
Recreational use wi
thout the psychoactive effects
INGREDIENTS
Organic Hemp Extract
Organic MCT Oil
DOSAGE
5-10 drops taken daily, 2-3 times a day. Do not exceed the stated dose.

RECOMMENDED USE
Place drops under the tongue and hold for 60 seconds, and then swallow. Drops can also be applied topically (on the skin) and can be added to food and drink.
CBD Margarita Mocktail
Makes 1
Prep time: 5 minutes
Dosage: Start with 15mg of CBD oil, add more or less depending on the desired effect.
Ingredients
•
25ml of orange juice, 25ml soda
•
50
ml
freshly squeezed
lime juice
•
25ml
agave syrup
(equal parts water & agave nectar)
•
Lime slice or edible flower to garnish
1.
Put your
cocktail
glass in the freezer for 10 minutes to chill
2.
Combine
the orange juice, soda, 
agave syrup,
lime juice
,
salt and CBD oil in a shaker with some ice.
3.
Give it a good shake (with the top held securely on!)
,
and then
strain
it into
the chilled cocktail glass
4.
Garnish with
an umbrella, lime slice, edible flower - or all three!
Why not experiment by adding CBD oil to your favourite cocktail recipe? Your creativity is the only limit!
Browse our KnowledgeBase for more CBD recipes that demonstrate the perfect use of your CBD flowers and oils.
IMPORTANT NOTES 
This product cannot be smoked or vaporised
This product is not intended to diagnose, treat, cure, or prevent any disease