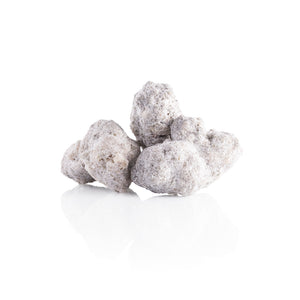 ICE ROCKS
Ice rocks are formed from the highest-grade hemp flower strains which are dipped in pure CBD concentrated oils and then smothered in a generous layer of pure CBD isolate to form the world famous Ice Rocks. 
The same as Moon Rocks, our Ice rocks have undergone our famous triple dipping process. However, do not confuse Ice Rocks with Moon Rocks which are rolled in pollen/keif.
Ice rocks contain 70% + CBD and host multiple other cannabinoids and terpenes, along with CBDA. 
CBD Isolate is the purest form of cannabinoid available with an amazing 99% CBD content! Isolate comes in the form of crystals and powder and is so versatile, allowing you to choose just the right way to use CBD. CBD Isolate has no flavour due to its extraction and filtration process, leaving it with no terpenes.
Percentage Composition of Ice Rock
CBD 73.4%
THC <0.2% <1 mg per closed container
The difference is the quality
At Natural Strains, we've made it our mission to source only the purest, highest quality hemp tea flowers available, while ensuring our operations and packaging are sustainable and environmentally friendly. We want our customers to buy with confidence, that's why everything we do is dedicated to ensuring we offer the best legal weed in the UK.
Cannabinoids & Terpenes at a glance
Terpenes add the botanical aroma and flavour and contribute to the properties of the hemp, along with the cannabinoids.
IMPORTANT NOTES
This product is not intended to diagnose, treat, cure, or prevent any disease
Not suitable for anyone under the age of 18
Do not use if you are pregnant 
Click HERE to view COA
Due to our industrial hemp being a natural product, no two batches are identical, therefore CBD % will differ between batches.